His concerts are now populated by Italians and sad Mums,
It's overbooked warbler Bryan "playing at a carpark near you" Adams
Can you believe he's only 55? Christ, he's gonna play at my funeral.
In the past week I was back on the road to Poland fur work (see what I did there?), by and large a very nice country and I was lucky enough to get a replacement for my long since departed Polska t-shirt, which has managed to get me preferential treatment from staff on more than one Ryanair flight in the past. Meg also benefits from these trips as I procure for her local chocolate. In this case a kind of white chocolate whole peanut mix. I don't think she liked it as much as the Belgian stuff. That's probably fair enough.
Bar work, one of the main things we've been working on is trying to lock down a new place to live. Currently we're looking for someplace that's dog friendly and with parking. The dog in particular is a priority for both of us because Meg is a huge doglover and for my part Meg has assured me that if she had a dog, she wouldn't keep pulling up my t-shirt and slapping my belly. I'm inclined to test this out.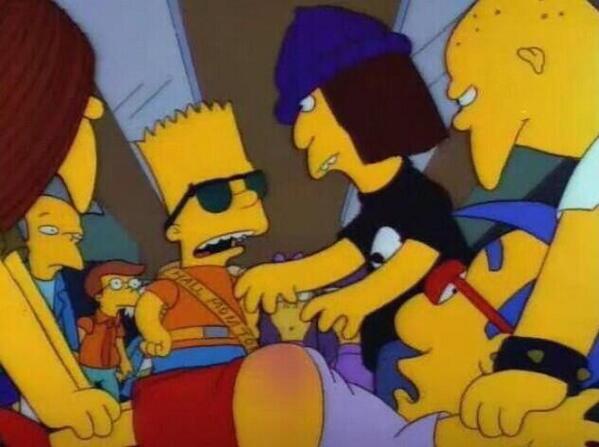 Something needs to change. This belly ain't getting any pinker.
So to this end we've been calling up the braindead chickenheads that staff the various real-estate companies in our areas. They span a bit of a range. On the first day we went around to each to get registered and some were looking at us like we were wearing meringue on our heads and still others, a meringue made out of the contents of a zoo skip. Especially the misleadingly jauntily titled Winkworths. They were not encouraging of our presence.
And Martin Flashman. And Spartan Cashman. And Tartan Trashman. All those jerks. 
So far in this batch we've had a place where the tenants were apparently sleeping on a blanket on the floor, somewhere where the neighbour stood at his front door scowling at us, smoking in a bathrobe (his little jonson going haywire underneath the wet and thin cloth as I was unable to prevent myself from invisioning) and one other where the the guy had ran his bath but heard us outside and thusly guided us around his tiny house with a face full of shaving home, paunch full of a heavy breakfast and his tiny Filipino wife grinning mutely from the couch. It was quite awkward.
We have however had worse experiences. When changing apartment in Manchester we were heavily considering moving to the hipster bastion of the Capital of the North, known itself as the Northern Quarter. Lots of excessively groomed beards and bagels, but really what they crave are butties, barms and Bovril.
Bovril is a powdered form of beef which is orderable as a beverage at the Man Utd and Man City stadia.
I am unashamed to say I have a cup with this image.
Anyway, we were trying to move on up as it were and had checked in with the local rentalists. As we walked up to one specific office we noticed a sex shop a couple of doors down and another two doors further along. "Nice area," we joked, with much guffawage. Lord we were witty back then.
When we got there there (I just double there'd you) was some confusion about the keys, no one knew where the right set was. The girl bringing us was a little flustered so her superior brought us to the door, she stormed off on foot towards the property. The head honcho, called out helpfully "It's really close by." She stopped a few doors down. "It's between the…[pause]"
"Sex shops?" I enquired. He nodded silently.
We hiked up a few flights of stairs to the top floor of this rather lightless domiciliary. She tried the keys. They didn't work. She pulled out her phone and called the office. They were the right keys. So this time, she tried for propers.
She twisted the key around a few times. She started to slam the door with her shoulder. We suggested maybe we didn't need to see this one so much. So she started kicking the door as well as shoulder slamming it, actually starting to make it give at areas away from the fringe. Eventually we talked her down.
She just really wanted us to have convenient access to range of competitive sex aids. Or was nuts. Bless her buttons.
My only other retellable experience was a pre-Meg mission where myself and a set of previous housemate chums (Simon and Eoin.) We wandered up to the house at the scheduled time (5pm on the noggin) and buzzed the doorbell expecting a maybe a young married couple with the realtor. Maybe a fancy executive type. Instead there was a Romanian chap with 30% English who surprised to see us, heard we were viewing and showed us in. Inside were about 10 men of about 40-60, smoking in the living room in total silence. Some of them looked up when we entered. Most didn't. We declined the offer to see the upstairs and eventually we made our excuses and staggered out into the never-sweeter daylight, fighting the urge to break into a trot as we hit the front lawn. Still think it might have been a niche brothel where happy people go to get good and depressed.
Like Bolton.
In other news major congrats to Bonnie and Mark Twohig on the arrival of their new son Charlie Gregory Twohig on September 11th. He is stout of heart, true of arm and in all likelihood will be the most succesful and handsome contact in my Facebook friends in 30 years time. Though Charlie is of course a very fine name, I can't help regretting that they didn't take my suggestion of Osama Bin Baby. But we all have regrets in life. I may have my own chance to bring the name back. Watch out Meg.
The Realtor of Leek